Newsletters 
January 2022
Walking Football Newsletter for  January 2022
Dates for your diary…
Weds 5th Jan Pool Academy sports hall 6-8pm
Fri 7th Jan Camborne College Astro 7-8pm
Weds 12th Jan Pool Academy sports hall 6-8pm
Fri 14th Jan Camborne College Astro 7-8pm
Weds 19th Jan Pool Academy sports hall 6-8pm
Fri 21st Jan Camborne College Astro 7-8pm
Weds 26th Jan Pool Academy sports hall 6-8pm
Fri 28th Jan Camborne College Astro 7-8pm
SUNDAY 30TH JAN CALDICOT FESTIVAL tbc
Weds 2nd Feb Pool Academy sports hall 6-8pm
Fri  4th Feb Camborne College Astro 7-8pm
Defibrillator Update :
Exciting news....Our new defibrillator has arrived! Our new pitchside defibrillator arrived today, ahead of schedule. We are so pleased and proud of all our members for their donations. We had donations online through gofund.me, donations of cash, donations from the Redruth Lions, the Royal British Legion and FWBLtd. 
We have bought the defibrillator and have a little left over for training for anyone who wants it. 
We are going to keep donations open and use the money for training equipment, room hire, replacement pads and batteries for the AED etc. So if you were thinking of donating and haven't yet, please do so. We still need your support. 
We intend to run free training in basic first aid, cpr and using the defibrillator for anyone in Troon AFC Walking who wants it, then free training to anyone in Troon AFC who wants it and finally training for a nominal fee to anyone in the Walking Football wider community. We strongly believe that this training should be available to everyone and that the more people that have even basic knowledge the better. A little is better than nothing. You might be able to save a life or help out in an emergency. Watch this space for training sessions in the new year. Look on the website in the 'First Aid and Physio' tab for first aid videos and a handbook to read online or print. 
Click on the link to go straight there.
https://www.troonafcwalkingfootball.com/FIRTST_AID_AND_PHYSIOTHERAPY_FOR_FOOTBALLERS.html
Cornwall Representitive Walking Football…
This project aims to promote Walking Football in Cornwall and is now going to be extended to include players in age groups 60 to 65, 65 to 70 and 70 plus. Trials for all 3 sides will be conducted in Spring 2022 and anyone wishing to be considered for inclusion should email saintssawfc@gmail.com
Stay safe everyone. See you soon! 
Nov /Dec 2021
Troon AFC Walking Football News for November and December 2021
Dates for your diary:
24th November FA meeting, 7pm
24th November NO TRAINING
26th November Camborne College Astro 7-8pm training 
1st Dec Pool Academy sports hall 6-8pm training 
3rd Dec Camborne College Astro 7-8pm training 
5th December - Tregorrick Park- WFA Cornwall Over 70s try outs.
8th Dec Pool Academy sports hall 6-8pm
10th Dec Camborne College Astro 7-8pm
12th December 3:00 - 6:00pm Newquay Tretherras School FA walking Football festival
15th Dec Pool Academy sports hall 6-8pm
17th Dec Camborne College Astro 7-8pm
22nd Dec Pool Academy sports hall 6-8pm
24th Dec NO TRAINING
29th Dec NO TRAINING 
31st Dec Camborne College Astro 7-8pm 
5th Jan 2022 Pool Academy sports hall 6-8pm 
News and Events:
We are saddened to lose our lovely team mate Tony Christopher, who  died this week. Tony was a much loved and appreciated member of our club, a true gentleman,  who will be sadly missed. Our thoughts, sympathies and condolences are with his wife Liz, son Paul and the rest of his family. We will let you know the funeral date when it is arranged for those of us who would like to attend. 
Would you like the chance to try out for the WFA Cornwall Over 70s Walking Football squad? The get together is on Sunday 5th December at the sports hall, Tregorrick Park. If you're over 70 you can just turn up to this event but it would be helpful to let them know numbers so please message both us and the organiser below to let us know. Email alan_read@rocketmail.com
Do you feel like doing more for our club and for Walking Football in Cornwall? We are looking for a new FA rep for the club. Do you think you could help with this? It would mean attending small group meetings, usually near Bodmin at the FA office on a weds evening not more than once a month (there have been only two meetings this year and before lockdown they were every two or three months). It's not big and official, it's small and friendly with reps from different WF clubs making arrangements for leagues and tournaments. We feel that we've done our stint for three years now and would like to give someone else a chance. You'd just need to attend meetings and feed back to us so that we can advertise events and general goings on. Interested? The next meeting is to be held at Bodmin FA, 7pm on Wednesday 24th November 2021 to discuss and plan future events. There'll be discussion about age groups and rules for the Newquay festival and hopefully some dates set for future events and next year's league. 
The FA will be holding two festivals in tandem at the same venue.They are aiming for all matches to be officiated by FA qualified referees who have also attended a Walking Football workshop. Venue: Newquay Tretherras School. Date: Sunday 12/12/21Time: 3:00pm arrival / 6:00pm finish.  Competitions: Over 50's - On the 3G AstroTurf Over 65's - Indoor Sports Hall 
Troon AFC Walking Football need a defibrillator. We need £1100. (We have £565 banked so far and £150 cash plus £100 from the Lions, a promise of £250 from a business, a promised donation of £200 and the Legion considering making a donation as well).  All donations, however great or small will help. Please share this link with all your family, friends and colleagues. You can message the link, add it to your Facebook page, email it to all your contacts or just tell people about it. Copy this link and share it everywhere....https://gofund.me/3672ea9d.  You can also donate cash at any training session. Any funds raised over and above the defibrillator cost will go towards training people to use it and for new  first aid supplies. 
This month we have been featured in both the Falmouth Packet and on the Saturday morning sports show on BBC radio Cornwall, we are the only team in Cornwall to have entered the WFA Southwest league and although this event was subsequently cancelled we are still proud that we stood ready. We are the only team in Cornwall to be able to field an over 75s team, an over 70s team, an over 65s team, an over 60s team and an over 50s team. We are also very close to being able to field a ladies team. We are the only club in Cornwall to allow people of all ages to play and one of only two clubs to allow gents and ladies to participate together. We have players who have represented England, Wales and Cornwall in Walking Football matches. There is a lot to be proud of and it all happens because of you. Keep up the good work!
HOMEWORK… Please let us know the following (either your yes or your no answer please)...Would got like to be our shiny new FA rep? Do you want to play in the Newquay festival and if so in which age group? And finally, if you haven't donated to the defibrillator fund please contribute by either donating online, donating cash at training or by sharing the information with your family and friends so that as many people as possible have the chance to donate. Thankyou. 
September/October 2021
Walking Football Newsletter Sept/Oct 2021
It's been quite a year hasn't it? But we're glad to be back with walking football and have enjoyed an amazing summer of fun, friendship, fair play and footie.
There is lots of news and things are moving quite quickly for walking football in Cornwall.  There are lots of new opportunities for all age groups to play at different levels and we will be looking for some help and to appoint volunteer age group coordinators to make sure everyone gets the information they need.  More on this later.
Club Improvements: Troon AFC have had to put their clubhouse plans on hold temporarily and as you'll have seen , building work has stopped for now.  
Walking Football continues to move forwards and we have decided to use an online polling system for you to let us know which events you would like to attend.  We trialled this system with disappointing results as only 7 people actually tried to use it.  It's very simple, you don't need an account you just click on the link we'll give you, read the info about the event and then click on yes, no or maybe.  It's equally important that you tell us that you're not interested in an event, partly so that we can stop nagging you but mostly so that we can coordinate teams without wondering 'are they not interested or did they just not vote'.  With five upcoming events on multiple dates, we cannot coordinate people telling us across all the platforms we use, something will be missed. 
So it's vital that everyone familiarises themselves with the voting system and uses it when asked.  We don't ask much and this is just three clicks on your computer, tablet or phone. So please, please, please use it.  It will REALLY help us.
Dates and Events
Winter Home - We will be back at Pool Academy sports hall in Church Road, Pool,  Redruth Cornwall TR15 3PZ from the first WEDNESDAY in October...that's WEDNESDAY 6TH OCTOBER.  You'll need to wear trainers please and if you've not been there before, there's lots of parking so don't worry about that.
Our Friday sessions are going well and we are looking to extend this by booking an extra outdoor session from October, probably at Camborne College Astro.  More news when we have it.
The Cornwall FA are back up and running and there will hopefully be some festivals and a new Cornwall FA league running soon.  We have no more information for this as yet.
The 'Cornwall Over 65s Team' - This is not an FA run team but is being coordinated by St Austell WF at the moment.  They want names of anyone aged 65 or over who would like to attend training and selection days on 19th and 26th SEPTEMBER at St Austell. It is urgent that everyone lets us know their interest (yes/no/maybe) in this team by contacting us via the club poll system by clicking on this link or copying it into your browser: https://whenavailable.com/event/4BZEWvtqHpJv3iy57 
The WFA Over 70s League - This will happen over the following dates throughout the year and there will be four other teams participating. If you'd like to be part of this, you need to be able to commit to attending on the following dates (at least most of them and 'in principle').  Over 70s league dates are: 3rd OCT; 28th NOV; 30th JAN; 27th MAR; 22nd MAY.  Matches will be at Ottery St Mary which is just outside Exeter and the same venue as the previous 70s Tournament.  It will be 12-3pm.  If you'd like to enter this league with your over 70s friends please use the link below to let us know https://whenavailable.com/event/x6VT33wid8Vp4YZ37  or speak to us on Monday.  You need to be 69+ to enter.  We would also like someone to step up and be the 70s League Coordinator for us.  You do not have to be over 70 for this role.  This would just be to make sure that everyone in the 70s team is kept up to date via email, message or phone call, with dates and transport arrangements and to disseminate information.  Let us know on Monday if you feel you could help out by doing this for us.
The WFA Over 50s League - This will happen over the following dates throughout the year and there will be several other teams participating. If you'd like to be part of this, you need to be able to commit to attending on the following dates (at least most of them and 'in principle').  Over 50s league dates are: 19th SEPT; 14th NOV; 16TH JAN; 6TH MAR; 8TH MAY .  Matches will be at Ottery St Mary which is just outside Exeter. It will be 12-3pm.  If you'd like to enter this league with your over 50s friends please use the link below to let us know https://whenavailable.com/event/fQdgqSHH5etNJYti6 .  You need to be 50 by Jan 2022 to enter.  We would also like someone to step up and be the 50s League Coordinator for us.  You do not have to be over 50 for this role.  This would just be to make sure that everyone in the 50s squad is kept up to date with dates and transport arrangements and to disseminate information.  Let us know on Monday if you feel you could help out by doing this for us.
In Other News
We have applied for several grants to get a defibrillator for the club but have no news on that yet.  If anyone knows a company who might like to donate one for us, please let us know.
We have bought a second kit in Gold (the St Day teams have seen it already) for our teams as they are out and about representing our lovely club.  We ask that everyone has shin pads.  You might want to get black shorts and dimple soled boots suitable for 3G and 4G pitches.
Calendar
Don't forget we have an online calendar to keep you on track, you can find it by clicking on the link here or by copy and pasting this into your browser
https://calendar.google.com/calendar/u/2/r/month/2021/8/1?pli=1 
So once again, would EVERYONE please add your name to all of these polls asap so that we can organise teams.  Just click on the link, add your first and last names, read the info and choose yes, no or maybe.  Thank you
Over 65s Cornwall  https://whenavailable.com/event/4BZEWvtqHpJv3iy57 
Over 70s League  https://whenavailable.com/event/x6VT33wid8Vp4YZ37 
Over 50s League 
https://whenavailable.com/event/fQdgqSHH5etNJYti6
March / April 2021
Dates for your diary...
We have been invited to take part in a Walking Football festival at Lanivet on
Sunday April 18th.
The WFA south west Walking Football cup is being held this May in Weston Super Mare. Dates are as follows Wednesday
May 5th from 12.30 - over 60sWednesday
May 12th from 12.30 - over 65s
Sunday May 23rd from 12.30 - over 50s
The Welsh Walking Football open tournament has now been confirmed for the following dates.
Over 70s - Friday August 20th
Over 60s- Saturday August 21st
Over 50s- Sunday August 22nd
February 2021
Our very own Wonder Woman, Christine, has been selected by England Walking Football to attend their National England Ladies trials in February. Since joining our club, Christine had gone from strength to strength. She has a fantastic attitude to the game and her team mates and is always willing to learn. Who knew that walking the dog could help you to the England trials?! We are really proud of you! Well done Christine 🌟🌟🌟🌟🌟
January 2021
Another year for walking football...eventually.It's been a sad start to the year for many but we're still here,  As far as we know all of our lovely walking football family are fit and well.  Feel free to check in and update us all as to your doings!  We are currently hoping that after this lockdown, maybe April time, it will be light enough to start outdoor sessions again, in the evening. Obviously this is all 'depending' but we do have a plan and we are intending to start back as soon as we feel its safe to do so.The FA have not updated their guidance to us since the start of December but they have issued more guidance on the rules of WF for refs to follow. The Cornwall WF committee are not meeting at present so there are no tournaments planned for 2021 and all of the WFA, IWFF and Welsh WF tournaments have been cancelled and are pending new dates.We will post here when we have news but otherwise we are just living quietly and waiting for everyone to get vaccinated....we were even thinking that given the order people will be vaccinated, walking football should be the first sport to be able to fully resume in the country!Safe safe everyone.
November / December 2020
Well tonight saw the sun setting on our last session of walking football up at Grouter Park for the foreseeable future.With the latest government restrictions we are having to put our walking football plans on hold. It is going to hurt and we will all miss our weekly get together the banter, the laughs, the football and oh yes the banana cake. It was great to go out on such a high tonight- great football played in a lovely spirit. Fantastic goal from Steve P, worth the admission fee on its own! Remember though that today was just the end of our latest chapter. It is not the end of our story. We will be back and we will be stronger because of the bonds we have built up especially over this summer. Wear your medals with pride you've earned them with all of your efforts, commitment and support. We are going to be here for you whatever happens in the days, weeks and months to come. As one of my footballing heroes once said, "it's been emotional!"
September 2020
Walking Football News - September/October 2020
Dates for your diary:
Tues 8th,15th, 22nd, 29th September Training outdoors at Troon AFC Grouter Park 6:15pm-7:45pm
Friday 2nd October - proposed start at Camborne College sports Hall
In order to comply with Government guidelines we will need to extend our social distancing rules.  Training at Camborne College will therefore be likely to have the following restrictions:
We will training in two training classes of one hour each (6-7pm and 7-8pm) 
We will ask you to arrive wearing a face covering or shield and to leave wearing a face covering or shield
We encourage you to wear a face shield during training but this will be your choice
We will ask you to pay £4 for your session
You will have your temperature taken before being allowed to train
You will be asked not to use the changing rooms or toilets
The hall doors will remain open for ventilation
You will be asked to stay away from training for a minimum of two weeks if you or any in your household or workplace have ANY covid symptoms.  We all have a responsibility to keep each other safe.
In line with the sign up sheet you have signed we will ask you to tell us immediately if you have been in contact with anyone with covid symptoms or if you even think you have covid symptoms yourself.  Err on the side of caution.
We will make things as safe as we can for you BUT
As with all aspects of the sport you attend and participate at your own discretion and risk.
Upcoming competitions in January and April: If you wish to participate please make sure that you have told Chris or Sarah and make your own arrangements for transport and accommodation where necessary.  If you need help or advice, just ask.
August 2020
WF News - August 2020
…...Well, what can we say? We were all set. First aid training, AGM, tournaments and league planned for the spring and then BOOM! Covid, lockdown, fear and face masks.  
But we're back. Slowly at first but getting back to some kind of nervous normal. We'd like to thank you for bearing with us, for being brave enough to come to training again and for still being our lovely, supportive, friendly and fun Troon AFC Walking Football.
So where are we now? Well, we started back with four little groups of just five players for half an hour training; after a few weeks we were able to widen this out to two groups of ten; then again, a few weeks after that, two groups of twelve. We have worn gloves, sanitised anything that didn't move and squirted hand gel on anything which does. Footballs, cones, goals and bibs are sterile enough to eat your dinner off! And all for free. 
Now, it's August and we're ready for the next cautious step, so here are the dates for your diary…
Tuesday 4th August: Training at Troon in two groups, 6pm or 7pm for 45 mins Invitation only. No charge. Check the timetables on Facebook and Troonafcwalkingfootball.com
Tuesday 11th August: Training at Troon 6:15pm til 7:45pm as one group. Invitation only. Check the timetables on Facebook and the website to check you are 'on the list'. We will be charging £5 for each session from this date onwards with the possible option of contactless payment.
September: As yet, Pool Academy is not taking any hall bookings and neither are most other indoor facilities as group exercise indoors, at the time of writing, is still not allowed. So, as things stand at the moment we have no indoor winter home. Obviously we can keep using Troon outdoor facilities as long as we'd like but, you know...weather!
January 23rd 2021: 60s Wales Open Tournament in Caldicot
January 24th 2021: 50s Wales Open Tournament in Caldicot
April 9th 2021: 70s Wales Open Tournament in Caldicot
(We have booked a place for one of our teams for each of the above competitions so please save the dates in your diaries and register your interest if you think you'd like to go...obviously covid permitting etc)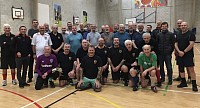 Walking Football News Feb/March 2020
Well, what an exciting month we're having and there's more to come!
Dates for your diary:
During March - Players are invited to submit their names as we need to elect a Troon AFC WF Rep to sit on the FA WF Club Reps committee. Commitment will be three evenings per year, usually at Bodmin FA Headquarters. You'll just need to go and listen and share good practice (Code for: Tell 'em how it's done!) Let Sarah know before 12th March if you're interested.
March 1st - Our intrepid three players who made it through the south west trials for the WF England squad will compete in Birmingham for the final places. We wish them well and KNOW that they will do us proud. Troon Army!
March 5th - No WF training (school has exams) but you can join us at the Copper Coast, Pool, from 6pm for dinner and/or drinks and a relaxing chat together...social time (wives and girlfriends welcome - but don't bring both!) 
March 12th - No WF training (exams again) but we have booked a classroom opposite the hall. We can meet up, share ideas (mini AGM) and we are hoping to lay on some basic first aid training for everyone there (no previous knowledge needed). Come along to learn something new and have your say/voice your ideas. We will also vote for our FA committee rep.
March 15th - Indoor tournament, by Cornwall FA, at Treviglas Academy, Newquay. (Note that the FA have changed the date AND venue).
March 19th - Training back to normal at Pool Academy.
Advance Notice:
April 2nd/3rd - People's FA Cup Tournaments
May 7th - last session at Pool Academy for this season.
May 14th - Training will be at Troon AFC Football Club, Grouter Park, Troon Moor, every week for the rest of the season. If you think you will have difficulty getting there, look out for our car share lists and we will try to make sure that everyone can carry on with wonderful WF through the summer. No man left behind!
June/July/August - League season. One Sunday per month. Date and venue tbc
Advanced advance notice - There is a strong probability that WF training will have to change to a different day. We will give you as much notice as possible of the changes and should know our new arrangements by the end of May.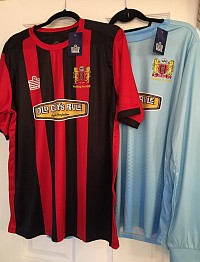 January 2020 News
Troon AFC Walking Football Club January 2020 Newsletter
Hello and welcome to a whole new decade of walking football!
There are lots of things happening this month so hold onto your hats...or football boots as the case may be…
There will be FA walking football training on the evening of Monday 14th January and we will be sending three people to train as official tournament referees. Thank you to everyone who volunteered.  There will be more ref training sessions in the future so if you have delusions of power be ready to put your name down.
England Walking Football trials are taking place at the start of next month for the over 50s and over 60s and we even have some brave people attending both!  Troon AFC WF are proud to have six players from our team trialling for England.There will be further trials for the over 70s in the future. We'll keep you informed.
Our kit order from Admiral with our sponsors logo on the front have arrived (we're still waiting for the socks) and they look fantastic.  We will be proud to wear them for national trials, tournaments and leagues. A representative from Old Guys Rule will be coming to one of our training sessions in the near future so that we can thank them personally and present a framed shirt to them as a momento.  There will be national and local press releases at that time.
Chris and Sarah will be attending the FA committee steering again this month and can confirm that the first Cornwall Walking Football League should be starting in the late spring of this year.
Please take the time to read our club Health and Safety advice and Code of Conduct.  We don't want to be a 'nanny state' but it's important for everyone to know that your safety at sessions is our priority and we all play a role in this.  Especially remember to not take advantage of 'weaker' members of the opposing team (we all come here to have fun and kick a ball) and to be considerate of goalkeeper safety, as there have been a couple of injuries caused by members shooting the ball too hard and fast for an indoor session.  Play Nice!
We are thinking about having a club meeting in the near future to discuss our upcoming plans and to give all of our lovely members the opportunity to share their ideas. Get your thinking cap on!

November /December News 
Walking Football News - November/December 2019
HAPPY FIRST ANNIVERSARY TO
TROON AFC WALKING FOOTBALL!
It's been another busy and exciting month for Walking Football and there is lots to look forward to during November and December.
Don't forget that for the most up to date news you should check our Facebook page or look on TroonAFCWalkingFootball.com
 We have placed our order with Admiral and we should have our new kit ready for the new year.  Very exciting!
We have extended our product range with Tremorvah and you can now place your orders for any extra items you'd like.  See our website for prices and sizes.
We are working on getting some first aid training going.  A basic level for everyone and a more formal course for those that are interested.
Sarah and Chris are on the Cornwall FA steering committee for Walking Football and will be meeting with other members to set up a league.  If you'd like to write down your ideas about how this should work, feel free to hand your ideas on paper to Chris or email: TroonAFCWalkingFootball@gmail.com and we'll make sure that your ideas are heard.
Have you played 'Guess Who?' on our Player Profiles page yet?  Don't forget to complete your Player Profile if you'd like to be on our website.  If you can't find your form, you'll find one to read or download on the 'Useful Links' page or our website.
We are still open to other clubs coming to train with us and if you would like us to arrange friendly matches with other clubs please let us know so that we can gauge interest.
Please give five minutes of your time and write a review of Walking Football on our website in the 'Reviews and Testimonials' tab.  TroonAFCWalkingFootball.com
It's great to have so many people to our sessions and we are looking into adding another session during the week, either in the evening or in the daytime.  (Just an hour so that there's space for new faces or you can double up on your WF fix!) Keep your eyes peeled for a survey coming soon on the website, where you'll be able to let us know your ideas about how this could work.
Dates for your diary:
28th November - No training.  Pool Academy have cancelled our session as they need the hall.  We have phoned around but everywhere else is fully booked. Sorry folks.
19th Dec, 26th Dec and 2nd Jan - No training over the holiday period.  
We come back on 9th January 2020