We are Troon AFC Walking Football, Cornwall. Check in here, for up to date information or look at our Home Page to find out more. 

St Day Tournament is ON
***LATEST DETAILS ***
We have had it confirmed today that the St Day event WILL be taking place this Saturday 31st July at St Day Football Club.

The following people have said that they are able to attend. (If you are now not able to attend please let us know ASAP so that we can sort teams). 
Barrie
Clive
Dave S
Eddie
Graham
James
Lin
Noel
Paul
Peter M
Steve 
Terry
Will
If your name is not on the list and you'd still like to play, it's not too late so please let us know ASAP.
We will be bringing kit ( shirt, shorts, socks) for everyone to change into on the day but you may wish to bring your own black shorts and socks. 
The surface is grass so moulded studs, Astros or trainers are permitted. You will also need shin pads. If you haven't got any please let us know so we can sort some for you.
Please also bring any medication you may need, a snack and plenty of drinks. Check the weather forecast for any other needs ie suncream, hat, raincoat, thermals!!!
Address
St Day Football Club
7 Vogue Terrace
St Day
Redruth
TR16 5NQ
Rainy Night Training...Cool😃
Tonight we celebrated our super over 70s goalie who played for the SW regional team in Birmingham yesterday and kept a clean sheet when he was called up for England Walking Football...and inducted another member into our over 50 Appearences club. 
Terrific Little Troon...Second in the whole of the southwest and honorary champions of Cornwall...Over 70s
So, so proud of our wonderful Troon 70s team who were absolutely magnificent in the incredibly testing conditions at the South West of England championships held in Exeter today.
After watching the hosts hold a very good Bournemouth side to a 0-0 draw. Troon stepped up for their first game against Bournemouth.
A fantastic all round display involving all 8 squad players and a brilliantly worked goal from Steve M saw us claim a 1-0 victory.
We followed that up knowing that a draw would be enough against Exeter for Troon to claim the trophy.
Unfortunately an early goal conceded and a strong resolute defensive display saw the home team win 1-0. Despite intense pressure and shots getting closer and closer, a fine display from the Exeter keeper, who has represented England, meant Troon had to settle for second place.
A great and very enjoyable day out with Troon playing some fantastic football in the right, positive sporting manner.
Despite the disappointment of the result we were delighted to see our very own Steve M selected as player of the tournament. Steve was a very worthy recipient but to be fair it could have been any one of the Troon players who all played their parts in what was a very successful and memorable day. And well done to Graham, our worthy captain who never stopped encouraging the team. 
You did yourselves, our club and Cornwall proud.
See you all at training tomorrow 👍🏻
Proud Cornish over seventies team, second placed in the South West finals, losing only to Exeter FC and scoring 50% of the total goals in the competition! Well done the chaps!
It's Official - We are twinned with Troon FC Scotland!
Today, in a lavish ceremony, our Troon AFC Walking Football pennant was presented to Troon FC in Scotland by our Intrepid Explorer, Dave. 
Our heartfelt thanks go to Troon FC Vice President Billy Ingle who accepted the pennant on behalf of Troon FC Scotland, to Dave who took the time to go and represent our club and all of you (and to Mrs Dave for allowing him out for the afternoon). Proper job!👏🏻👏🏻👏🏻👏🏻🎉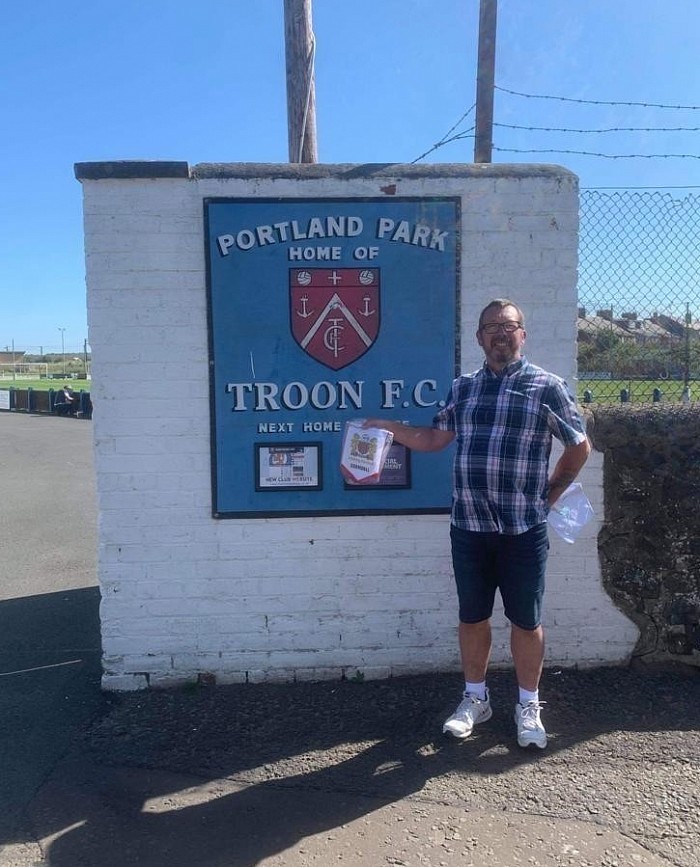 Our Intrepid Explorer arrives at Troon FC in Scotland - 572.5 Miles From home (to translate into Cornish... Thaaat's north of Laansson summ'ere upcountry moy luvver.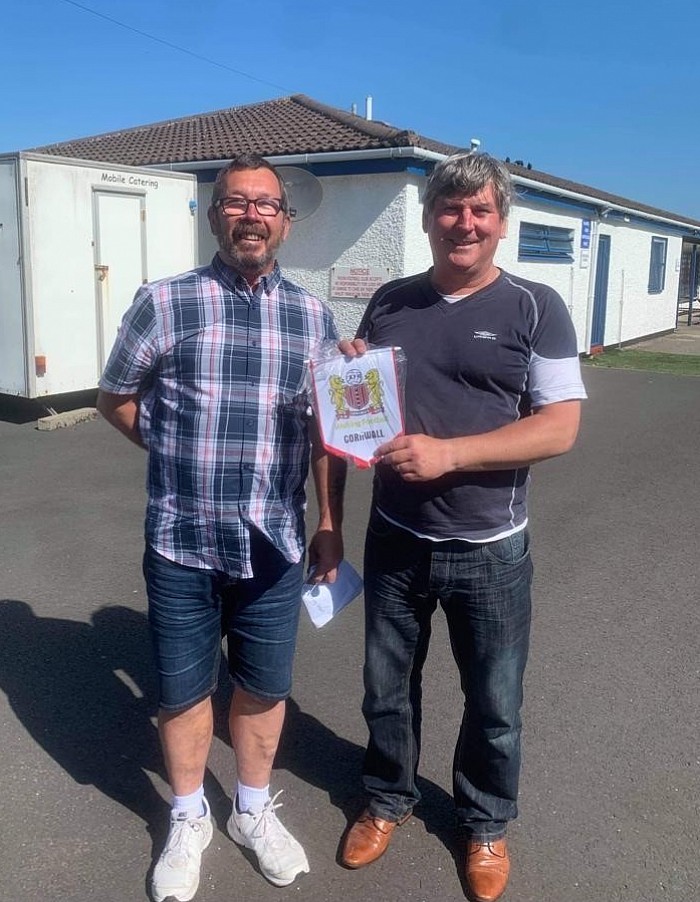 Our pennant is gifted to Troon FC Vice Chair Billy Ingle in a lavish twinning ceremony which involved a break from painting the fence!
Wonderful training tonight with superb pass and move Football. Congratulations to all of our players who earned a certificate tonight. We're proud of you 👍🏻