Newsletters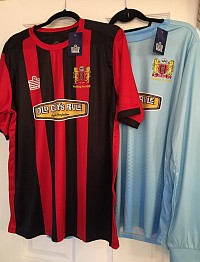 January 2020 News
Troon AFC Walking Football Club January 2020 Newsletter
Hello and welcome to a whole new decade of walking football!
There are lots of things happening this month so hold onto your hats...or football boots as the case may be…
There will be FA walking football training on the evening of Monday 14th January and we will be sending three people to train as official tournament referees. Thank you to everyone who volunteered.  There will be more ref training sessions in the future so if you have delusions of power be ready to put your name down.
England Walking Football trials are taking place at the start of next month for the over 50s and over 60s and we even have some brave people attending both!  Troon AFC WF are proud to have six players from our team trialling for England.There will be further trials for the over 70s in the future. We'll keep you informed.
Our kit order from Admiral with our sponsors logo on the front have arrived (we're still waiting for the socks) and they look fantastic.  We will be proud to wear them for national trials, tournaments and leagues. A representative from Old Guys Rule will be coming to one of our training sessions in the near future so that we can thank them personally and present a framed shirt to them as a momento.  There will be national and local press releases at that time.
Chris and Sarah will be attending the FA committee steering again this month and can confirm that the first Cornwall Walking Football League should be starting in the late spring of this year.
Please take the time to read our club Health and Safety advice and Code of Conduct.  We don't want to be a 'nanny state' but it's important for everyone to know that your safety at sessions is our priority and we all play a role in this.  Especially remember to not take advantage of 'weaker' members of the opposing team (we all come here to have fun and kick a ball) and to be considerate of goalkeeper safety, as there have been a couple of injuries caused by members shooting the ball too hard and fast for an indoor session.  Play Nice!
We are thinking about having a club meeting in the near future to discuss our upcoming plans and to give all of our lovely members the opportunity to share their ideas. Get your thinking cap on!

November /December News 
Walking Football News - November/December 2019
HAPPY FIRST ANNIVERSARY TO
TROON AFC WALKING FOOTBALL!
It's been another busy and exciting month for Walking Football and there is lots to look forward to during November and December.
Don't forget that for the most up to date news you should check our Facebook page or look on TroonAFCWalkingFootball.com
 We have placed our order with Admiral and we should have our new kit ready for the new year.  Very exciting!
We have extended our product range with Tremorvah and you can now place your orders for any extra items you'd like.  See our website for prices and sizes.
We are working on getting some first aid training going.  A basic level for everyone and a more formal course for those that are interested.
Sarah and Chris are on the Cornwall FA steering committee for Walking Football and will be meeting with other members to set up a league.  If you'd like to write down your ideas about how this should work, feel free to hand your ideas on paper to Chris or email: TroonAFCWalkingFootball@gmail.com and we'll make sure that your ideas are heard.
Have you played 'Guess Who?' on our Player Profiles page yet?  Don't forget to complete your Player Profile if you'd like to be on our website.  If you can't find your form, you'll find one to read or download on the 'Useful Links' page or our website.
We are still open to other clubs coming to train with us and if you would like us to arrange friendly matches with other clubs please let us know so that we can gauge interest.
Please give five minutes of your time and write a review of Walking Football on our website in the 'Reviews and Testimonials' tab.  TroonAFCWalkingFootball.com
It's great to have so many people to our sessions and we are looking into adding another session during the week, either in the evening or in the daytime.  (Just an hour so that there's space for new faces or you can double up on your WF fix!) Keep your eyes peeled for a survey coming soon on the website, where you'll be able to let us know your ideas about how this could work.
Dates for your diary:
28th November - No training.  Pool Academy have cancelled our session as they need the hall.  We have phoned around but everywhere else is fully booked. Sorry folks.
19th Dec, 26th Dec and 2nd Jan - No training over the holiday period.  
We come back on 9th January 2020