Newsletters 
November / December 2020
Well tonight saw the sun setting on our last session of walking football up at Grouter Park for the foreseeable future.With the latest government restrictions we are having to put our walking football plans on hold. It is going to hurt and we will all miss our weekly get together the banter, the laughs, the football and oh yes the banana cake. It was great to go out on such a high tonight- great football played in a lovely spirit. Fantastic goal from Steve P, worth the admission fee on its own! Remember though that today was just the end of our latest chapter. It is not the end of our story. We will be back and we will be stronger because of the bonds we have built up especially over this summer. Wear your medals with pride you've earned them with all of your efforts, commitment and support. We are going to be here for you whatever happens in the days, weeks and months to come. As one of my footballing heroes once said, "it's been emotional!"
September 2020
Walking Football News - September/October 2020
Dates for your diary:
Tues 8th,15th, 22nd, 29th September Training outdoors at Troon AFC Grouter Park 6:15pm-7:45pm
Friday 2nd October - proposed start at Camborne College sports Hall
In order to comply with Government guidelines we will need to extend our social distancing rules.  Training at Camborne College will therefore be likely to have the following restrictions:
We will training in two training classes of one hour each (6-7pm and 7-8pm) 
We will ask you to arrive wearing a face covering or shield and to leave wearing a face covering or shield
We encourage you to wear a face shield during training but this will be your choice
We will ask you to pay £4 for your session
You will have your temperature taken before being allowed to train
You will be asked not to use the changing rooms or toilets
The hall doors will remain open for ventilation
You will be asked to stay away from training for a minimum of two weeks if you or any in your household or workplace have ANY covid symptoms.  We all have a responsibility to keep each other safe.
In line with the sign up sheet you have signed we will ask you to tell us immediately if you have been in contact with anyone with covid symptoms or if you even think you have covid symptoms yourself.  Err on the side of caution.
We will make things as safe as we can for you BUT
As with all aspects of the sport you attend and participate at your own discretion and risk.
Upcoming competitions in January and April: If you wish to participate please make sure that you have told Chris or Sarah and make your own arrangements for transport and accommodation where necessary.  If you need help or advice, just ask.
August 2020
WF News - August 2020
…...Well, what can we say? We were all set. First aid training, AGM, tournaments and league planned for the spring and then BOOM! Covid, lockdown, fear and face masks.  
But we're back. Slowly at first but getting back to some kind of nervous normal. We'd like to thank you for bearing with us, for being brave enough to come to training again and for still being our lovely, supportive, friendly and fun Troon AFC Walking Football.
So where are we now? Well, we started back with four little groups of just five players for half an hour training; after a few weeks we were able to widen this out to two groups of ten; then again, a few weeks after that, two groups of twelve. We have worn gloves, sanitised anything that didn't move and squirted hand gel on anything which does. Footballs, cones, goals and bibs are sterile enough to eat your dinner off! And all for free. 
Now, it's August and we're ready for the next cautious step, so here are the dates for your diary…
Tuesday 4th August: Training at Troon in two groups, 6pm or 7pm for 45 mins Invitation only. No charge. Check the timetables on Facebook and Troonafcwalkingfootball.com
Tuesday 11th August: Training at Troon 6:15pm til 7:45pm as one group. Invitation only. Check the timetables on Facebook and the website to check you are 'on the list'. We will be charging £5 for each session from this date onwards with the possible option of contactless payment.
September: As yet, Pool Academy is not taking any hall bookings and neither are most other indoor facilities as group exercise indoors, at the time of writing, is still not allowed. So, as things stand at the moment we have no indoor winter home. Obviously we can keep using Troon outdoor facilities as long as we'd like but, you know...weather!
January 23rd 2021: 60s Wales Open Tournament in Caldicot
January 24th 2021: 50s Wales Open Tournament in Caldicot
April 9th 2021: 70s Wales Open Tournament in Caldicot
(We have booked a place for one of our teams for each of the above competitions so please save the dates in your diaries and register your interest if you think you'd like to go...obviously covid permitting etc)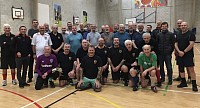 Walking Football News Feb/March 2020
Well, what an exciting month we're having and there's more to come!
Dates for your diary:
During March - Players are invited to submit their names as we need to elect a Troon AFC WF Rep to sit on the FA WF Club Reps committee. Commitment will be three evenings per year, usually at Bodmin FA Headquarters. You'll just need to go and listen and share good practice (Code for: Tell 'em how it's done!) Let Sarah know before 12th March if you're interested.
March 1st - Our intrepid three players who made it through the south west trials for the WF England squad will compete in Birmingham for the final places. We wish them well and KNOW that they will do us proud. Troon Army!
March 5th - No WF training (school has exams) but you can join us at the Copper Coast, Pool, from 6pm for dinner and/or drinks and a relaxing chat together...social time (wives and girlfriends welcome - but don't bring both!) 
March 12th - No WF training (exams again) but we have booked a classroom opposite the hall. We can meet up, share ideas (mini AGM) and we are hoping to lay on some basic first aid training for everyone there (no previous knowledge needed). Come along to learn something new and have your say/voice your ideas. We will also vote for our FA committee rep.
March 15th - Indoor tournament, by Cornwall FA, at Treviglas Academy, Newquay. (Note that the FA have changed the date AND venue).
March 19th - Training back to normal at Pool Academy.
Advance Notice:
April 2nd/3rd - People's FA Cup Tournaments
May 7th - last session at Pool Academy for this season.
May 14th - Training will be at Troon AFC Football Club, Grouter Park, Troon Moor, every week for the rest of the season. If you think you will have difficulty getting there, look out for our car share lists and we will try to make sure that everyone can carry on with wonderful WF through the summer. No man left behind!
June/July/August - League season. One Sunday per month. Date and venue tbc
Advanced advance notice - There is a strong probability that WF training will have to change to a different day. We will give you as much notice as possible of the changes and should know our new arrangements by the end of May.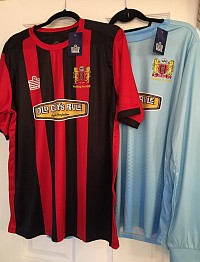 January 2020 News
Troon AFC Walking Football Club January 2020 Newsletter
Hello and welcome to a whole new decade of walking football!
There are lots of things happening this month so hold onto your hats...or football boots as the case may be…
There will be FA walking football training on the evening of Monday 14th January and we will be sending three people to train as official tournament referees. Thank you to everyone who volunteered.  There will be more ref training sessions in the future so if you have delusions of power be ready to put your name down.
England Walking Football trials are taking place at the start of next month for the over 50s and over 60s and we even have some brave people attending both!  Troon AFC WF are proud to have six players from our team trialling for England.There will be further trials for the over 70s in the future. We'll keep you informed.
Our kit order from Admiral with our sponsors logo on the front have arrived (we're still waiting for the socks) and they look fantastic.  We will be proud to wear them for national trials, tournaments and leagues. A representative from Old Guys Rule will be coming to one of our training sessions in the near future so that we can thank them personally and present a framed shirt to them as a momento.  There will be national and local press releases at that time.
Chris and Sarah will be attending the FA committee steering again this month and can confirm that the first Cornwall Walking Football League should be starting in the late spring of this year.
Please take the time to read our club Health and Safety advice and Code of Conduct.  We don't want to be a 'nanny state' but it's important for everyone to know that your safety at sessions is our priority and we all play a role in this.  Especially remember to not take advantage of 'weaker' members of the opposing team (we all come here to have fun and kick a ball) and to be considerate of goalkeeper safety, as there have been a couple of injuries caused by members shooting the ball too hard and fast for an indoor session.  Play Nice!
We are thinking about having a club meeting in the near future to discuss our upcoming plans and to give all of our lovely members the opportunity to share their ideas. Get your thinking cap on!

November /December News 
Walking Football News - November/December 2019
HAPPY FIRST ANNIVERSARY TO
TROON AFC WALKING FOOTBALL!
It's been another busy and exciting month for Walking Football and there is lots to look forward to during November and December.
Don't forget that for the most up to date news you should check our Facebook page or look on TroonAFCWalkingFootball.com
 We have placed our order with Admiral and we should have our new kit ready for the new year.  Very exciting!
We have extended our product range with Tremorvah and you can now place your orders for any extra items you'd like.  See our website for prices and sizes.
We are working on getting some first aid training going.  A basic level for everyone and a more formal course for those that are interested.
Sarah and Chris are on the Cornwall FA steering committee for Walking Football and will be meeting with other members to set up a league.  If you'd like to write down your ideas about how this should work, feel free to hand your ideas on paper to Chris or email: TroonAFCWalkingFootball@gmail.com and we'll make sure that your ideas are heard.
Have you played 'Guess Who?' on our Player Profiles page yet?  Don't forget to complete your Player Profile if you'd like to be on our website.  If you can't find your form, you'll find one to read or download on the 'Useful Links' page or our website.
We are still open to other clubs coming to train with us and if you would like us to arrange friendly matches with other clubs please let us know so that we can gauge interest.
Please give five minutes of your time and write a review of Walking Football on our website in the 'Reviews and Testimonials' tab.  TroonAFCWalkingFootball.com
It's great to have so many people to our sessions and we are looking into adding another session during the week, either in the evening or in the daytime.  (Just an hour so that there's space for new faces or you can double up on your WF fix!) Keep your eyes peeled for a survey coming soon on the website, where you'll be able to let us know your ideas about how this could work.
Dates for your diary:
28th November - No training.  Pool Academy have cancelled our session as they need the hall.  We have phoned around but everywhere else is fully booked. Sorry folks.
19th Dec, 26th Dec and 2nd Jan - No training over the holiday period.  
We come back on 9th January 2020