TALKING Football (See what we did there?!)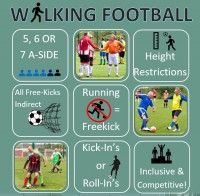 Talking Football 
In this occasional series we will highlight good practice in Walking Football and train our brains in how to think like a walking footballer.
Start by having a look at this video...it explains the basic rules and principles of the game. 
You're the captain!
Have a look at this video from a recent training session. Imagine you were the captain of one of the teams. What should blue captain tell his team? And orange captain? Why was the penalty awarded? How would you 'debrief' your team afterwards?
Training on 26/09/19
The missing player and keeping your balance 
Look at this picture from this one of our training sessions, there are several points for you to consider :
1. There are four blue players in this picture. Can you see them all?  Which blue players are best placed to intercept the ball and how could you get yourself into a good position for interception whilst wrongfooting the opposition?
2. The Green player has just used the inside of his foot. How many parts of your foot could you use to stop or pass the ball? Which are your strongest / weakest? How can you improve your weak shots? How can you get into a balanced position, facing the right way, to use your strong shot?
3. Can you spot the players with a good, balanced and open body shape who are ready to move either way? How can you keep yourself stable and balanced? (Remember that falls are more likely to occur if you are unbalanced). 
Homework : practice standing in a wide stance and open position and gently move your balance from one foot to the other without lifting your feet off the floor. If this is easy for you, try doing it in your toes. If it's still easy for you, practice making turns to the left and the right. 
We are Troon AFC Walking Football. Check in here, for the most up to date information or look at our Home Page to find out more. 

January 2021 -Update
Another year for walking football...eventually.
It's been a sad start to the year for many but we're still here,  As far as we know all of our lovely walking football family are fit and well.  Feel free to check in and update us all as to your doings!  
We are currently hoping that after this lockdown, maybe April time, it will be light enough to start outdoor sessions again, in the evening. Obviously this is all 'depending' but we do have a plan and we are intending to start back as soon as we feel its safe to do so.
The FA have not updated their guidance to us since the start of December but they have issued more guidance on the rules of WF for refs to follow. 
The Cornwall WF committee are not meeting at present so there are no tournaments planned for 2021 and all of the WFA, IWFF and Welsh WF tournaments have been cancelled and are pending new dates.
We will post here when we have news but otherwise we are just living quietly and waiting for everyone to get vaccinated....we were even thinking that given the order people will be vaccinated, walking football should be the first sport to be able to fully resume in the country!
Safe safe everyone.
Positional Awareness 
Look at this picture from our training on 10/10/19. 
Who can the blue player pass to?
How could the other blue players be better placed?
Which orange player is best placed to intercept?
How could the blue player pause before passing, to give his team a better chance of receiving the ball?
Homework:
In training we have learned how to open up space for a pass by taking a defender out of the way (not in the mafia sense!). Can you do that in your next match?
Fiddly Formations
Excellent walking techniques shown here as well as open body shapes. Well done everyone. 
Is important to talk about formations with your team. There are several you can use and each formation is good for a different opposition. Your team will need to be able to flow from one formation to another as the opposition tries to press you. 
Do you know your own role in each formation? Can you move from one position to another?
Which formation would you recommend to the blue or orange team in the picture?
Homework : Study the potential formations pictured below. Which ones are good for attack  or defence? Can you be brave and talk to your team about the formations you need for the next  match? Who in your team will decide which to use? How will you change formation mid game if it's not working?
A Short History of Walking Football
From the days of long shorts and dodgy moustaches to the reintroduction of our fantastic game in 2011, there doesn't seem to be a definitively accepted history of walking football – so we sent our intrepid reporter out on a mission to see what he could discover…
A little known fact about walking football is that the first-ever game took place all the way back in May 1932, between a team of Derby Railway and Crewe Railway veterans at the Baseball Ground, home to the Rams until 1997. The spectator admission fees, three pence for standing or sixpence for seats, were donated to charitable causes – and more than 1,500 turned up.
The match finished 1-1 with Steve Bloomer, Derby County's all time leading scorer playing the role of referee at the age of 58. All of the players on the pitch were over 65 years old and the Derby Telegraph reported on the match by writing:
Bald heads, white moustaches and red faces were the order of the day, while one man played in spectacles. The combined age of the Derby team was 741 and of Crewe 733.
This one off game was repeated annually until 1936, but then walking football vanished until an initiative by the Chesterfield FC Community Trust in 2011 saw the creation of the Chesterfield Senior Spireites – reviving the game and marking the birth of walking football as we know it.
The initial aim was to help over 50s in the local area get back in touch with the sport they love, yet in the process they managed to create something so much bigger.
The initiative, which came long before national festivals and an official FA rulebook, was part of the local Walk for Health programme and was only ever intended as a casual kick about for local players. The first matches were three a side with no goalkeepers. There were no rules as such, due to the relaxed nature of the game – just don't run and have plenty of fun.
However the sport soon took off. Very quickly Chesterfield Senior Spireites saw their numbers grow, and they now have 40 players regularly attending sessions. In 2015 a satellite club, Hasland Walking Football Club, who run separate sessions once per week, joined them, helping to bolster numbers along the way.
This followed on from the big marketing push that walking football needed to go national. An advertising campaign from Barclays Bank featuring a bloke called Roy extolled the virtues of our wonderful game. This was quickly followed by thousands of enquiries from players looking to get their footballing fix, and as a result a proliferation in teams.
For many over 50s, it was the first chance to get out on the pitch again in decades. It presented an opportunity to create new social circles and created a level playing field for all, whether 18 or 80.
The Barclays campaign reached millions and saw the creation of the first walking football teams from Premier League clubs. Manchester City, at the time having just completed their sparkling new training centre next to the Etihad Stadium, the first in England's top flight. The Scottish Premier League's Glasgow Rangers were not far behind.
All of which brings us up to where we are today, with regular tournaments and festivals and thousands of players competing not just in the UK, but around the globe.