Tell Us What You Think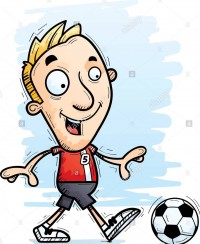 Troon AFC Walking Football Would Love To Hear Your Views and Opinions 
Leave a comment below to tell us what you think about our club.
Are you made to feel valued and welcome?
Are the sessions fun?
Do you feel that your physical and mental health are helped by coming along?
Is it value for money?
Would you recommend us?
Stars out of five ⭐️⭐️⭐️⭐️⭐️?
What could we do better?
Nigel J
What a friendly club, many thanks for the warm welcome by all
Phil
thanks to the warm welcome from Chris and the team . I hope i can hone back my football skills again and keep fit and progress the teams
Steve
Came along for the first time Wednesday 12th January 22 and what a great warm welcome. Very friendly, encouraging group of people. Very well organised by Chris
Mike H
Had my first session last night at Pool Academy. Everyone was very warm and inviting. The standard of skills was good and we had some great games. Everybody goes at their own ability and speed but nevertheless it is a good, healthy, low impact work out and I was ready for bed after it! Chris and Sarah are well-organised, knowledgeable about the game, efficient and also very engaging. I'm 45 yrs old with some underlying health issues and I thoroughly enjoyed not just the footy but the company too. Great to meet with men and woman of all ages. See you next week!!
Paul k
Back training with Troon AFC walking football last night, indoors at Pool school, for the first time in 20 months and had a great time. It was as enjoyable as I remembered. I felt really welcomed back with the group there was a good atmosphere with familiar and new faces attending.
A big thanks to Chris and Sarah for their organising, enthusiasm and continued hard work for the club.
Highly recommend these sessions.
Craig Nicholls
What a great club and friendly lot. At my first session (free) last week I was made to feel truly welcome and an aged old friend, it was as if I'd known everyone for years. Some fantastic and really inspirational older chaps that put me to shame and encouraged me to stick at it, which I will be doing!! See you next week guys for more fun, comradery and exercise.
steve
Hi. Turned for for the first time on Monday 24 May 2021 and thoroughly enjoyed it. Have told others and one or two seem keen.
Just got to get used to not running but walking.
Weather permitting, will be a regular.
Clive Fowkes
Great to be back, very enjoyable. Thanks to the organisers. Can't wait for games to start
paul M
great social and physical workouts on Thursdays. a well run club and a pleasure to be part of
John S
Finished playing many years ago and then had to have a new hip, started about a year ago and really enjoying it , its great for fitness and to meet new friends but also for me it gave me the belief I could carry on playing the sport I love, and as the wife says (it get's me out the house for one night a week ) very well run by Chris and Sarah and caters for all ages and abilities and a very friendly atmosphere , Would recommend it to anyone
Clive F
My first night at WF on 19/02. Great session everyone helpful and friendly. Don't knock it til you try it. It's faster than you think.
Paul J
"Living in Essex and playing for an over 65ss in Harlow. I was recovering from surgery. I was staying with family in Helston and noticed Troon AFC on Google. I contacted Chris and was invited along. I must say that Troon WF organisation is 2nd to none. As a stranger from London what impressed me was the friendly reception I received, and then how well the club is organised. I'm not surprised they have potential England players and hopefully I can share my experience with my home club (Paringdon Pirates Harlow) , with a veiw to improve our training methods. "
Eddie
Absolutely no judgment of age or ability, just turn up, enjoy the game
Geoff
Happy anniversary guys well done


Margaret
Well done to all but especially Chris and Sarah. You are very bright stars in many people's lives. :))
Caroline
Happy 1st anniversary, onwards and upwards. Xx

Simon
You both run a fantastic club, we are lucky to have such a great friendly club to be able to take part in our walking football, I dont no about anyone else but walking football is the highlight of my week , thanks to the both of you for making this happen,not just for me but everyone who attends.
Stephan
Joined on the first day having never played football and thoroughly enjoy every session. Learning to play as a team with the main ethos to keep fit physically as well as mentally. Highly recommended for interactivity with fellow walking footballers. Five star for the training sessions and the company off all.
Richard from Wales
Incredibly friendly and welcoming bunch of men and ladies. I asked if I could join in with them whilst visiting as I was missing playing football and was warmly welcomed to play. Also a fantastically run session that was enjoyable, fun and also a really good standard of play. Would definitely recommend going along for a game to anyone in the area. Will definitely be returning
Thanks Geoff!
Great games tonight well done to all- Geoff
Fun For All 
Excellent fun this evening. Some really good football played and all in a great spirit- and partly in the dark! Going to miss it after next week.- Peter H
Thank you Margaret 
You have both been amazing and done wonders for all the participants. Troon AFC are to be applauded for their huge support of all your efforts. It is very sad that there has to be this extended break but hope for everyone's sake that you will be able to get back together in the Spring. I hope to accompany Barrie next week but will ensure I follow your guidelines and social distance myself, if that is okay with you. Very best wishes. Margaret