We are Troon AFC Walking Football, Cornwall. Check in here, for up to date information or look at our Home Page to find out more. 

FA Registration
Homework:
Please login to your FA account and check that you are registered to the league.
The FA are now requiring that everyone has a photo on their account so you need to update your personal details and add a photo of yourself.
It's best if you do this yourself but if you're stumped. we can take a mugshot and add it from our end.  
This applies URGENTLY to new players.  You cannot be registered to play in FA events without a photo.
If you played for us in the league last year you should be already registered and just need to add your lovely face.
Ask for help if you need it.
Update 
For Tournament Photos …. Click Here
This week:
Footie and a cream tea ON WEDNESDAY 31st.
Everyone invited to Grouter Park for an hour of footie and then a cream tea and natter celebration 🎉 
For Tournament Photos …. Click Here
FUTURE FRIDAY TRAINING 
UPDATE: PLEASE BE BE AWARE…
FRIDAY TRAINING IS NOW ONLY  FOR THOSE PEOPLE WHO ARE MAKING THEMSELVES AVAILABLE FOR TOURNAMENT OR LEAGUE SELECTION.
If you train with us and play for another team competitively, please only attend on Wednesdays. 
First league day is 11th June. That's only 2 weeks away.  Please let us know your availability. 
League days: second Sunday of June, July, August and September at Cornwall College
Tournament Time!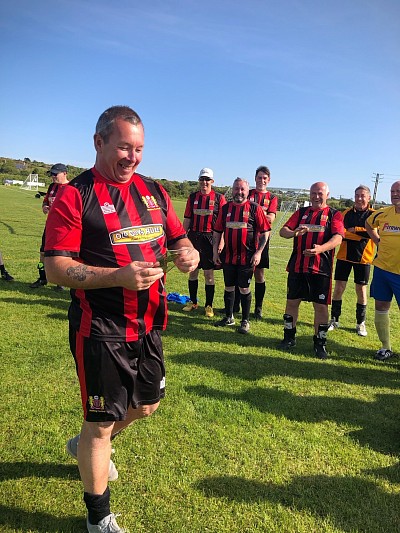 To see all our photos of the day CLICK HERE
A wonderful Tournament day.
Thankyou to everyone who came to play or help out.
Loads of pics on fb and via the link above.
Congratulations to Troon 50s who won the Plaque, Troon Women who played in the first ever Cornwall Women's event and who remain the All Cornwall Champions 😉 and to the incredible Troon 60s, most of whom played 8hrs of football yesterday.
You're all brilliant!! 🤩
It's that time of year 🎉
Every year we celebrate you, our lovely players. 
Please get your thinking caps on because voting will soon start for our annual awards. 
Player's player of the year
 Most improved player
 Club Person
 Unsung hero
 Coach's Player of the Year
 Last years winners…..
Membership pack 23/24
We Only Do Positive  - Come and see for yourself...
****UPDATE ****. WE WILL BE STARTING BACK AT GROUTER PARK ON WEDNESDAYS FROM 3RD MAY 6-8PM. 
WE WILL BE ASKING EVERYONE TO FILL IN THE NEW SEASONS SIGN UP SHEET AT THIS TIME. YOU CAN COLLECT ONE FROM US ON THE DAY OR DOWNLOAD AND FILL IN YOUR OWN AND BRING IT ALONG. 
DON'T FORGET YOUR GLASSES AND CONTACT DETAILS!
FA REGISTRATION :  If you were registered with Troon last year, you are still registered. If you are new or have not ever had an email from Cornwall FA you can check by logging in with your FAN number or just ask Sarah and she can check for you. 
Click the link below to join our club and the Cornwall FA if you have not already done so ...
Click here to register with the club and the Cornwall FA

....  and make sure you fill in our 2023/24 membership form.    You can get the new form at training or by scanning the QR code or by clicking the link below:
Click here for our membership pack
Read all about the FA Respect and Positivity guidelines by clicking here 
Code of Conduct
Troon AFC Walking Football 
Code of Conduct
The objectives of our Club are to promote the physical, mental and emotional health and well-being of our members through providing facilities and programmes that promote the game of Walking Football eg.providing sessions, matches, tournaments for members meeting the Club's Code of Conduct. 
We all have a responsibility to promote high standards of behaviour within walking football therefore, this code of conduct has been developed with players and coaches. Troon AFC Walking Football Club adopted these for both casual sessions and competitions. 
On and off the field I will:
Place the well-being, safety and enjoyment of each player above everything, including winning.
Ensure that the session coach, team manager and/or referee is made aware of any medical condition, or on-going injury prior to play
Participate in group warm ups and cool down activities to ensure that I am prepared for the session and to build a team ethos
Be responsible for undertaking any personal stretches and warm ups I may need, before or after participating in group activities
Adhere to the rules and ALWAYS respect the match officials' decisions.
Always display and promote high standards of behaviour and promote fair play through the active encouragement of others.
Make allowances for and encourage Members with different skill levels and physical abilities and not seek to take advantage of Members with different skill levels and physical abilities.
Never engage in, or tolerate, offensive, insulting or abusive language and behaviour. 
Never engage in bullying, intimidation or harassment and to always speak to team-mates, the opposition, spectators, referees and my coach/manager with respect.
Remember we all make mistakes, so win, draw or lose with dignity. Shake hands with teammates, the opposing team and the referee at the end of every game.
Be a positive ambassador for my club.