We are Troon AFC Walking Football, Cornwall. Check in here, for up to date information or look at our Home Page to find out more. 

Brooding clouds and brilliant Football tonight 
Excellent sportsmanship tonight and a delight to see George and Tom back in action 👍🏻
Lots of photos in the photos tab on this website. Sadly no videos tonight, it was too dark.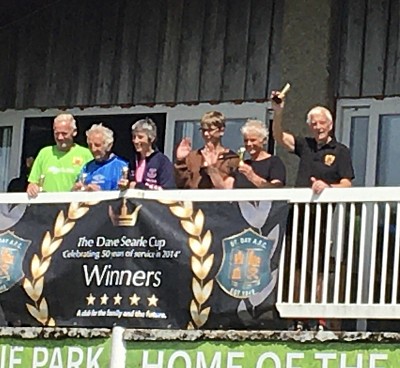 Troon Champions 
Our wonderful Troon Titans were runners up in the StDay Cup today. Well done to the Titans and to the Trojans who came a close third. Fair play and fun by all.
A huge thank you and well done to all of our fantastic walking footballers at St Day today. Our brilliant Troon Titans (gold shirts) finished as runners up to Falmouth Flames.
A lovely morning of excellent walking football played in a brilliant sporting and friendly manner- an excellent advertisement for the game and a credit to our club.
Onwards and upwards our magnificent Troon army! 
Please check out our tube channels for more pics and videos. 
Looks like Barry and John will be needing to upgrade their trophy cabinets soon😊❤️⚽️
Well done everyone. 👍🏻👏🏻⭐️⭐️⭐️⭐️⭐️
Cllive
St Day Football Festival. Well organised and superb pitches. All pitches marked out by a line marking robot!! Well done to St Day.FC. Fantastic day with so many age groups playing football.
Well done Troon Titans beaten in the final by a good Falmouth side.
Rainy Night Training...Cool😃
Tonight we celebrated our super over 70s goalie who played for the SW regional team in Birmingham yesterday and kept a clean sheet when he was called up for England Walking Football...and inducted another member into our over 50 Appearences club. 
Terrific Little Troon...Second in the whole of the southwest and honorary champions of Cornwall...Over 70s
So, so proud of our wonderful Troon 70s team who were absolutely magnificent in the incredibly testing conditions at the South West of England championships held in Exeter today.
After watching the hosts hold a very good Bournemouth side to a 0-0 draw. Troon stepped up for their first game against Bournemouth.
A fantastic all round display involving all 8 squad players and a brilliantly worked goal from Steve M saw us claim a 1-0 victory.
We followed that up knowing that a draw would be enough against Exeter for Troon to claim the trophy.
Unfortunately an early goal conceded and a strong resolute defensive display saw the home team win 1-0. Despite intense pressure and shots getting closer and closer, a fine display from the Exeter keeper, who has represented England, meant Troon had to settle for second place.
A great and very enjoyable day out with Troon playing some fantastic football in the right, positive sporting manner.
Despite the disappointment of the result we were delighted to see our very own Steve M selected as player of the tournament. Steve was a very worthy recipient but to be fair it could have been any one of the Troon players who all played their parts in what was a very successful and memorable day. And well done to Graham, our worthy captain who never stopped encouraging the team. 
You did yourselves, our club and Cornwall proud.
See you all at training tomorrow 👍🏻
Proud Cornish over seventies team, second placed in the South West finals, losing only to Exeter FC and scoring 50% of the total goals in the competition! Well done the chaps!
It's Official - We are twinned with Troon FC Scotland!
Today, in a lavish ceremony, our Troon AFC Walking Football pennant was presented to Troon FC in Scotland by our Intrepid Explorer, Dave. 
Our heartfelt thanks go to Troon FC Vice President Billy Ingle who accepted the pennant on behalf of Troon FC Scotland, to Dave who took the time to go and represent our club and all of you (and to Mrs Dave for allowing him out for the afternoon). Proper job!👏🏻👏🏻👏🏻👏🏻🎉